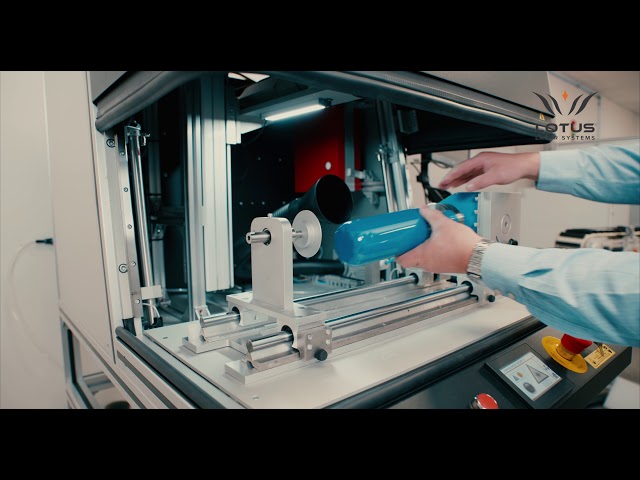 British engineering at it's finest.
The Meta-C is exceptionally capable and surprisingly affordable.

This fully modular laser is built to last for decades, it can be fitted with a great variety accessories to meet your needs and is available with Fiber, UV and CO2 laser sources.
Watch the intro
Meta-C Fiber
Fitted with a Fiber laser, the Meta-C is the ideal option for engraving or marking metals and some plastics. The laser source includes up to a 5 year warranty and is available in a truly vast selection of laser power outputs and types.
Fiber Options
Meta-C UV
There is no doubt that UV lasers are the most versatile for marking. Effective against almost every material and sector, they possess exceptional accuracy.
UV Features
Meta-C CO2
Offered in a range of power outputs, the Meta-C CO2 laser (Galvanometer) allows you to engrave and cut many materials.

Our galvo systems are available in range of power outputs.
CO2 Options
Meta-C
Meta-C is our flagship system designed for commercial, industrial and the more serious user. British built, Meta-C features some of the best functionality and performance in its class.
Brochures
Request a Demo
Features to
speed up
your production
Meta-C is one of the most feature enriched laser marking and laser engraving workstations in its class and can be configured with a 1µm Q-switched laser, 1064nm MOPA Fiber laser, 10.6µm CO2 laser or even a 355nm UV laser source. Meta-C delivers outstanding levels of output quality, reliability and functionality.
Industry 4.0 Software
With full 3D and 4-axis support, send graphics, or setup more advanced marking jobs quickly and efficiently. Our laser engraving software makes it easy to operate your machines, find out more.
Magnetic T-Slot Table
We incorporate a precision cut aluminium T-Slot magnetic-aligning worktable, helping you to reduce those set-up times from many minutes to just a few seconds.
Robust Construction & Extended Warranty
Built with high grade components cased in an extremely robust aluminium chassis, the Meta-C could take the weight of a small truck. In fact we are so confident of our our build quality, we back it up with the longest warranties in this market.
Programmable Z-Axis
Our programmable Z-axis provides exceptionally quick job set-up and recall, as well giving you the ability to mark objects at multiple heights in a single marking or engraving job.
Pneumatic Access
The Meta-C Laser Workstation incorporates a safety tested, pneumatically actuated access panel. Allowing fast hands free marking, with minimal noise and lower wear/tear operation.
Interchangeable Lenses
All of our marking lasers are available with a range of lenses so that the system can deliver a variation of focal lengths, scan areas and focal point sizes.
Which
laser source

is right for you?
Rotary Device
Mark or engrave around the circumference of rings, bottles, parts and more.
Conveyor Feed
Use a conveyor feed system for automatic marking in your manufacturing process.
COBOT
Integrate your system with a collaborative robot to perform a range of tasks.
Build quality
Designed, assembled, configured and tested in the UK to ISO9001 (2015), CE and RoHSII regulations and pending certification after testing by the TUV quality authority, Meta-C is one of, if not the most feature enriched and functional laser marking workstations on the market today.
We choose very high grade components and really do take our time to build this model, which is reflected by the proven track record of near zero faults in the field across a large number of units installed. At this price point we feel that at time of publishing there really is no other system on the market to compete with Meta-C on a like for like basis…
Specification
Laser source

MOPA  1064 nm Fiber 20w / 30w / 50w / 60w / 70w / 80w

10.6um CO2  30w / 50w / 75w

UV 355nm  3w / 5w / 10w

Work area

Variable according to source: 70mm to 300mm

Dimensions (WDH)

790 x 1160 x 1030mm

Software

Lotus Mark

UK Warranty

3 years upgradable to 5 years (laser source variable dependent on type)

Programmable Z-axis, T-slot, External start, PLC electronics

all standard

Rotary axis, conveyor feed and Cobot

optional extras
If you would like to push your business forward with one of our systems, but you do not have the budget in place right now for CAPEX investment, then why not take advantage of one of our finance packages? With terms from 1-5 years and low APR, you can give your business some breathing space.
Find out More
Conclusion
Available with a very wide range of laser wavelengths, output powers, varying beam characteristics and packed with performance enhancing features Meta-C is our flagship laser engraving, marking and cutting workstation. Meta-C is a powerhouse of a machine delivering the best performance and functionality in its class. It's the ideal solution for those that require the ultimate performance and reliability to service high production demands.
Meta-C also comes with unrivalled connectivity to external devices such as robots and other forms of automated handling devices. Meta-C can be used with a conveyor belt or rotary device to further improve the engraving and marking process.
7
International Distributors